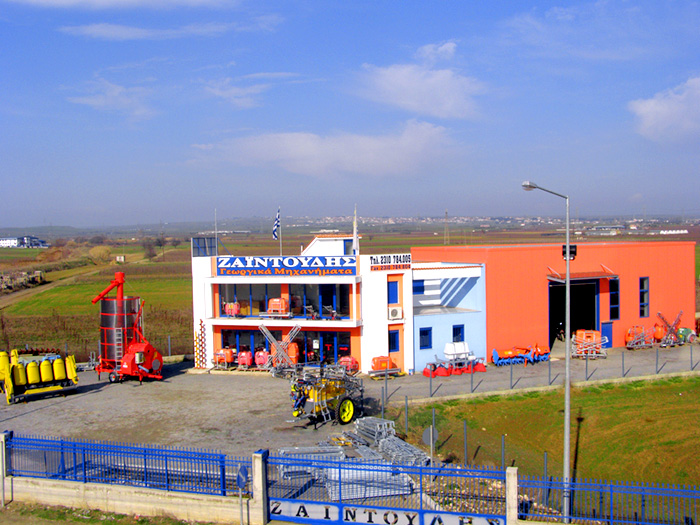 The company was set up in 2006 and has its headquarters in the Agios Athanasios – Thessaloniki region, in the 17th km of National Highway Thessaloniki - Edessa.
The founder of the company, Mrs Dimitrios Zaintoudis, has been dealing with agricultural machinery since 1974. Having been in charge of the technical area of the "KEFALAS-PERRAKIS S.A." one of the leading companies in field of agricultural machinery for 17 years until its dissolution in 1993, he set up his own company in IONIA-THESSALONIKI in 1994 manufacturing and trading agricultural machinery. After a twelve-year process of growth and in 2006 with his son Vasilis entering the company, it was relocated in their current brand-new private premises.
The ZAINTOUDIS BROSS G.P. company deals with the import, trade and manufacture of agricultural machinery. It manufactures spraying machinery, spraying booms and special manufactures of sprayers. It imports and trades spraying pumps IMOVILLI POMPE and ARAG spraying accessories (filters,  electrical control units, nozzle holders, nozzles, spraying guns, water hoses, GPS Navigators, spraying computers and monitors etc.)
The ZAINTOUDIS BROSS G.P. imports, repairs and trades corn headers FANTINI, in which the founder Mr Dimitrios Zaintoudis has considerable experience, since he is the first one who installed the first important machinery in Greece together with the Italian technicians as well as grain dryers F.LLI PEDROTTI whose representative he has been for decades. Also it sells TOMENZOLI vine cultivation machinery.
The company actively deals with areas which include TOMENZOLI stone pickers, stone rakes and beach cleaning machines as well as BATTIONI PAGANI exhausters/compressors.
The company together with excellently trained technical staff, the highly advanced mechanical equipment and our long experience, maintains and repairs not only its products according to the corresponding factory standards, but also a wide range of agricultural machinery based on the collection of genuine component parts it possesses.
It thus offers direct and qualitative services to our customers and after-sales service.